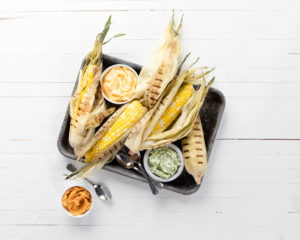 Grilled Sweet Corn
Yield 8 servings
Use up your summer bounty of sweet corn with this simple grilled recipe topped with a variety of flavorful compound butters.
Ingredients
8 ears of corn (with husks)
Instructions
Heat gas or charcoal grill.
Remove large outer husks from each ear of corn. Gently pull back inner husks and remove silk. Pull husks up over ears.
Place corn on the grill. Cook uncovered over medium heat 10 to 15 minutes, turning frequently, until tender. Let stand for 5 minutes. Serve corn with compound butter.
Recipe by Lakewinds Food Co-op at https://www.lakewinds.coop/recipes/all/lime-herb-butter/