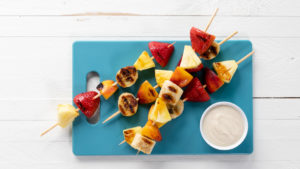 Grilled Fruit Kabobs with Cinnamon-Maple Yogurt
Yield 6 servings
A sweet, healthy and kid-friendly snack or grilled side. Serve these caramelized bites with a simple cinnamon-maple non-dairy yogurt dip for a treat everyone can enjoy!
Ingredients
12 wooden skewers, soaked
4 cups fruit cut into 1-inch pieces (pineapple, strawberries, peaches, and bananas)
3 tablespoons maple syrup, divided
1 tablespoon olive oil
1/2 cup Nancy's Oatmilk Non-Dairy plain or vanilla Yogurt (from 24 oz container)
1/4 teaspoon ground cinnamon
Instructions
Heat gas or charcoal grill. Onto each wooden skewer, thread the pineapple, strawberries, peaches, and bananas.
In a small bowl, combine 2 tablespoons of the maple syrup and the olive oil. Brush the maple syrup mixture over the fruit.
Place on grill over medium heat. Cook 2 to 4 minutes, turning every 30 seconds until the fruit softens and grill marks appear.
In a small bowl, stir together the yogurt, remaining 1 tablespoon maple syrup, and cinnamon until well blended. Serve fruit skewers with the yogurt dip.
Notes
Tip: Soaking the skewers in water for at least 20 minutes will prevent the wood from burning while on the grill.
Recipe by Lakewinds Food Co-op at https://www.lakewinds.coop/recipes/all/grilled-fruit-kabobs-with-cinnamon-maple-yogurt/