'Chicken' Lentil and Avocado Salad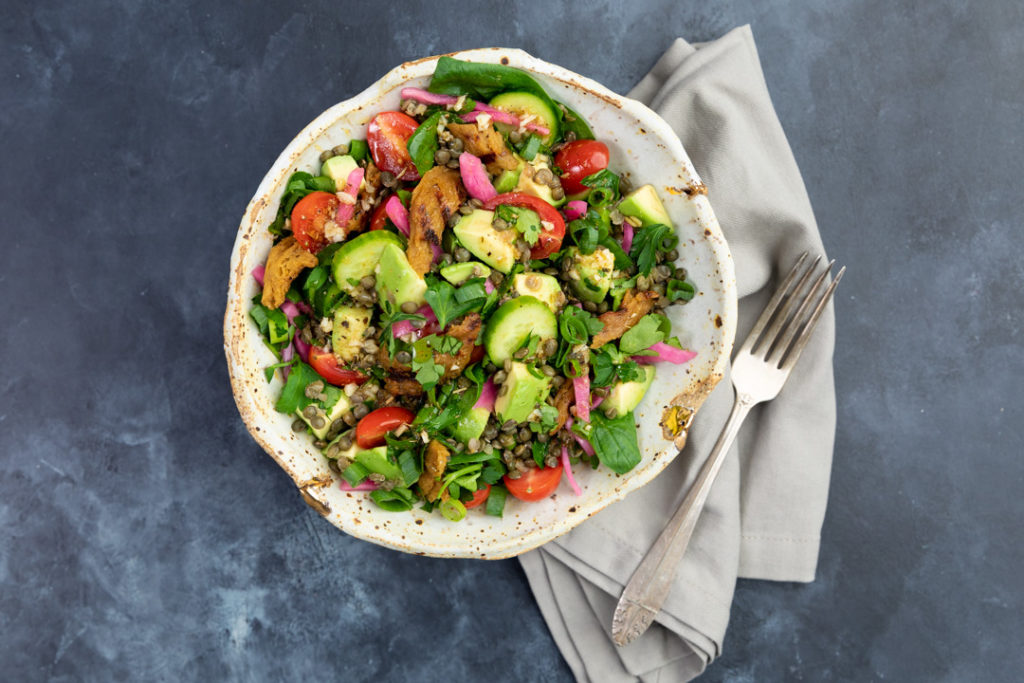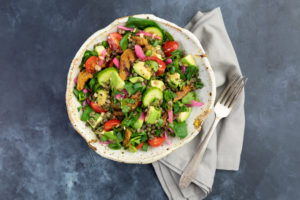 Print
'Chicken' Lentil and Avocado Salad
Yield 4 servings
Ingredients
1 1/2 cups vegetable broth
1/2 cup French lentils
1/4 cup olive oil
3 tablespoons fresh lemon juice
1/4 cup chopped fresh parsley
2 medium green onions, sliced
3 cloves garlic, finely chopped
1 teaspoon dried oregano
1 teaspoon paprika
1 teaspoon ground cumin
1/2 teaspoon salt
1/4 teaspoon pepper
1 package No Evil Foods Comrade Cluck 'No Chicken"
1 cup grape tomatoes, cut in half
1/2 cup thinly sliced cucumber
6 cups Superior Fresh baby spinach
1 medium avocado, peeled, pitted, cut into 1/2-inch cubes
Instructions
In a 2-quart saucepan, heat broth and lentils to boiling. Reduce heat; cover and simmer 15 to 20 minutes or until just tender. Drain if necessary; set aside.
In a large bowl, whisk together olive oil, fresh lemon juice, parsley, green onions, oregano, paprika, cumin, salt, and pepper. Reserve half of the mixture for the salad dressing.
Gently pull the "No chicken" apart into large pieces into a large bowl with half of the olive oil mixture. Toss to coat the 'chicken' well. Cover and refrigerate 30 minutes or up to 24 hours to marinate.
Heat a grill pan or non-stick skillet over medium heat. Remove "No chicken" from marinade, discard marinade. Place "No chicken" on the heated grill pan. Cook 8 to 10 minutes, turning once, until heated through and browned on the outside.
In a large bowl, stir together lentils, tomatoes, cucumber, and reserved dressing and toss well. Add grilled "No chicken" spinach and avocado; toss gently. Serve immediately.