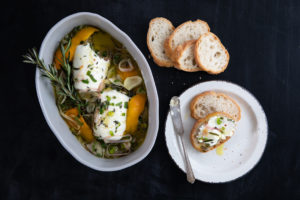 Baked Goat Cheese with Shallots and Herbs
Yield 8 servings
Ingredients
1/2 cup olive oil
2 green onions, thinly sliced
1 medium shallot, thinly sliced
1 clove garlic, finely chopped
1 tablespoon fresh thyme
1/2 teaspoon red pepper flakes
Pinch salt
2 logs (4 ounces each) plain goat cheese
2 sprigs fresh rosemary
4 strips (each about 2-inches long) orange peel without the pith
Sliced baguette or crackers, for serving
Instructions
Heat oven to 325°F. In a medium bowl, mix together the olive oil, green onions, shallot, garlic, thyme, red pepper flakes, and salt.
Spoon half of the oil mixture into a 1-quart ovenproof baking dish. Place the cheese in center of the dish. Spoon remaining oil mixture over the cheese and tuck the rosemary and orange peel in around the cheese.
Bake 15 to 20 minutes or until cheese is heated through and oil is fragrant.
Serve cheese and oil with sliced baguette or crackers. Store remaining oil or cheese in the refrigerator for up to a week.
Recipe by Lakewinds Food Co-op at https://www.lakewinds.coop/recipes/all/baked-goat-cheese-with-shallots-and-herbs/