3 Lonetti Sisters Casserole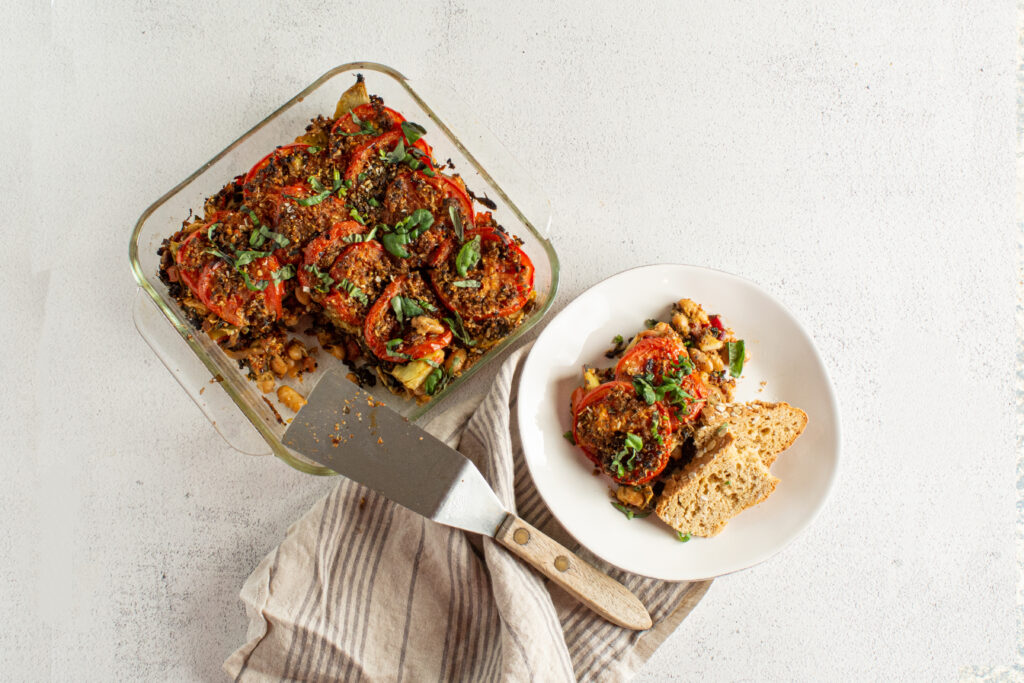 Print
3 Lonetti Sisters Casserole
Yield 4 servings
Ingredients
3 tablespoons olive oil, plus more for greasing baking dish
½ large onion, sliced
1 can artichokes, drained and chopped in 1-inch pieces
½ bunch Swiss chard (about 4 stems) well rinsed, stems separated from leaves and chopped. Keep leaves and stems separate.
2 garlic cloves, sliced
1 can cannellini beans, drained and rinsed
¼ cup fresh basil, chopped (plus a bit more for garnish)
½ cup 3 Lonetti Sisters meatball mix, separated in two portions
¾ lb tomatoes, sliced
Kosher salt and black pepper to taste
Instructions
Preheat oven to 375°
Heat 2 tablespoons olive oil in a skillet over medium heat until shimmering. Add onion, artichokes, and Swiss chard stems, and a pinch of salt.
Sauté until tender, then add the chard leaves and garlic. Sauté for another 3 minutes. Remove from heat.
Add the beans, basil, half the 3 Lonetti Sisters mix, and a few pinches black pepper and mix together.
In a small bowl, mix remaining 3 Lonetti Sisters mix with 1 tablespoon of olive oil.
Grease an 8" x 8" or similarly sized baking dish with ½ tablespoon olive oil. Add sautéed mixture to the baking dish. 
Arrange tomatoes on top in a shingle pattern. Sprinkle with a pinch of salt.
Top with a few pinches of 3 Lonetti Sisters mix and drizzle with olive oil.
Bake for 25-30 minutes, until the top is golden brown and tomatoes are tender.
Remove from oven and allow to cool for 5 minutes. Garnish with basil and serve.