Community Giving Round Up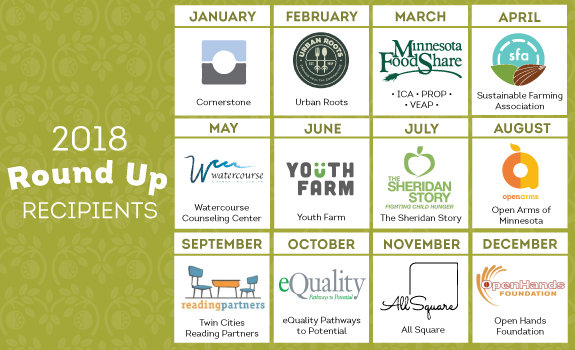 Would you like to round up your purchase today?
It's a phrase you hear all the time in our stores, but you might not know exactly what it means. When you round up your purchase to the nearest dollar, our Community Giving Round Up program takes those extra cents and gives them directly to a local organization doing amazing work for people who need it. It's a simple but powerful way to engage our owners and shoppers in fulfilling Lakewinds' principle of caring for the community.
How do you pick your organizations?
The Community Giving Round Up program has gained considerable traction since its start in April of 2015. As understanding of this initiative spreads through the Twin Cities, our network of empowered and involved organizations continues to grow.
For the 2018 calendar year, Lakewinds received an unprecedented 47 applications for the Community Giving Round Up program.
Interested organizations can apply to be considered for the Community Giving Round Up program. Each year 11 organizations are selected. During the month of March, Lakewinds participates in Minnesota FoodShare's yearly campaign. All funds raised during March are designated through the FoodShare campaign to our food shelf partners – ICA Food Shelf in Minnetonka, PROP in Chanhassen, and VEAP in Richfield. With the exception of FoodShare, no recipient organizations are repeated two years in a row.
A committee at Lakewinds carefully evaluates the applications and selects a diverse group of organizations from across the Twin Cities metro area that focuses on community impact where it's needed most, whether that's establishing a neighborhood garden, improving access to nutritious meals for kids, or supporting families in crisis. The program considers applications from any non-sectarian, non-partisan organization. While it is not a requirement that an organization be food-based, all recipients must share values that reflect Lakewinds' cooperative principles.
The 2019 Round Up application timeline has closed as of November 15, 2018. Round Up Recipients for the 2019 calendar year will be announced in December 2018.
---
2018 Community Giving Round Up Recipients
January – Cornerstone Advocacy Service
February – Urban Roots MN
March – Minnesota FoodShare
April – Sustainable Farming Association of MN
May – Watercourse Counseling Center
June – Youth Farm
July – The Sheridan Story
August – Open Arms MN
September – Reading Partners Twin Cities
October – eQuality Pathways to Potential
November – All Square
December – Open Hands Foundation