Chanhassen Updates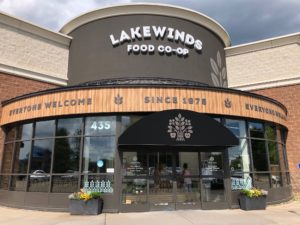 We're making improvements to our Chanhassen store. While these updates will ultimately make the shopping experience better for you, we realize there will be temporary disruptions. We're sorry for the hassle and appreciate your understanding!
We'll update this page regularly with what changes are happening and when, so you know what to expect.
When: Week of November 11
What: Dairy coolers rearranged.
Tip: Some items may have limited quantities available. Please ask an employee for help if you can't find something you need. Thanks for understanding!
What's complete:

Meat shelving replaced and updated cases installed.
New freezers installed and expanded.
New cheese cooler and deli case added for grab-and-go deli items.
Grocery shelves replaced, rearranged, and aligned in the center of the store.
New bakery grab-and-go case installed.
These updates are made with the environment in mind. We're using sustainable materials, hiring local craftspeople, and installing high-efficiency appliances.
And these improvements are made with you in mind. The biggest changes occur overnight. We avoid doing work on the weekends, when we're busiest. We're making updates in small steps so it's as non-disruptive as possible. And we think that once we're done, you'll find shopping at Chanhassen even better and more enjoyable than ever! Thank you for your support!
Please let us know how we can help by emailing marketing@lakewinds.com.