Beneficial Smoothie Recipes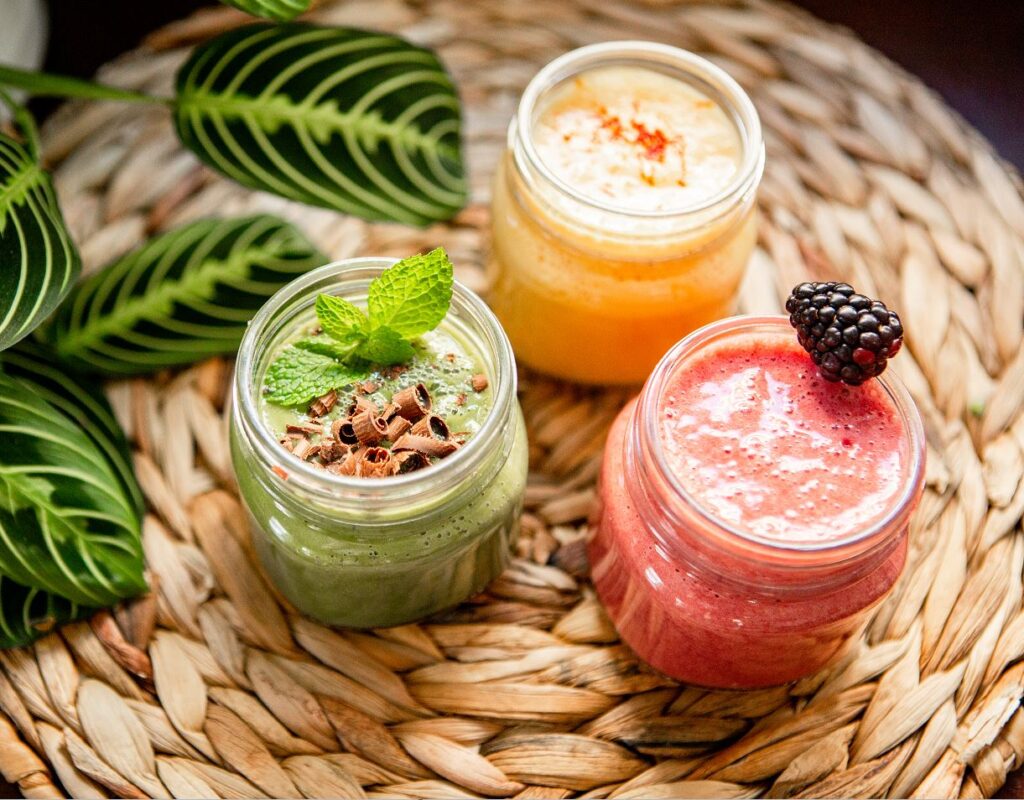 When smoothie season kicks off, that's great news for all of us! It means that warm, sunny days are back, and cool, refreshing, delicious smoothies hit the spot. And why not add some extra nutritional oomph to your smoothies? The smoothie recipes below come from local, woman-owned Wellcova, and use brewed, cooled tea as a main ingredient. This allows you to enjoy local tea year-round, whether the days are chilly and you want something warming, or when the days heat up (hooray!) and a smoothie helps you stay cool and nourished.
Thanks to Asma Siddiqi at WellCova tea for creating and sharing these recipes!
Berry Well Smoothie
Start your morning with tart cherries, sweet berries, and Immunitea to jump start your day.
Ingredients
1/2 cup cherries, pitted
1/2 cup mixed frozen berries
3/4 cup WellCova Immunitea, chilled
1/2 lemon with peel
2-4 teaspoons chia or flax seeds
1 cup coconut water
4 ice cubes
Optional: Whey or plant-based protein
Instructions
Place all the ingredients into a powerful blender. Blend until smooth and enjoy!
Golden Mango Smoothie
Refreshing, with yogurt, fruits, and spices, this traditional beverage is a tasty treat that rejuvenates on a hot day.
Ingredients
2 cups frozen mango
1/2 cup plain yogurt
1/2 cup mango yogurt
1/2 cup WellCova Golden tea, brewed and cooled
1/2 strand of saffron
1/2 teaspoon ground cardamom
1/4 cup honey or maple syrup
Pinch of salt, optional
Coconut for garnish, optional
Instructions
Add the mango chunks to a blender and pulse until they're in smaller hunks. Add the next seven ingredients, blend on low for 1 minute, then scrape down the sides and blend again until smooth.
Mint Bliss Smoothie
With spinach, avocado, and banana, this nutrient-packed smoothie works great for breakfast. The mint and creamy Greek yogurt add deliciousness and texture that also make it a great snack option. Adding whipped cream and chocolate shavings can turn it into dessert, too.
Ingredients
1 cup spinach
1/4 cup Greek (or plant-based) yogurt
1 fistful (about 1/4 cup) fresh mint leaves
1/2 banana, frozen
1/2 avocado
1 cup Wellcova Blissful Belly tea, chilled
1 cup ice cubes
Optional: Whipped cream and chocolate chips or shavings
Instructions
In a blender, add the tea, spinach, yogurt, mint leaves, banana, and avocado. Blend until smooth. Add the ice cubes and blend again until thick and frothy. If desired, garnish with whipped cream, chocolate shavings, and a sprig of mint.
For more ideas, see our recipes for an Oatmeal Cookie Smoothie and a Vegan Mushroom Matcha Latte.